Full Mouth Restoration - Dentist PEI - Family Dentistry
The idea of full mouth restoration is a relatively simple and straightforward concept that involves a variety of treatments, procedures, tools, and equipment. Full mouth restoration essentially entails a complete and comprehensive treatment that is designed to restore, rebuild, and reconstruct teeth that have gone missing due to decay or infection, and teeth that have been damaged or chipped as a result of trauma or injury. We are pleased to provide the various treatments and services that are involved with full mouth restoration. Among these include, dental bridges, dental crowns, porcelain veneers, and dental implants to name a few. 

The process for full mouth restoration is one that involves an initial examination by your dentist. In this case we will examine and evaluate the physical condition of your teeth, the visual appearance of your teeth, the health of your gums, and the strength or durability of your temporomandibular joints. Upon the completion of this examination, we will develop a comprehensive treatment plan to resolve all your oral and dental issues, which includes recommending a dental specialist for more complex treatments. If you are interested in the services we can provide regarding full mouth restoration, make an appointment for a consultation.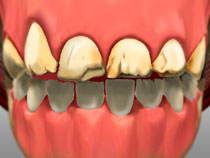 Last Updated On
2020-07-07