Root Canal Therapy - Dentures PEI - Family Dentistry
If you have or are currently experiencing severe tooth pain when chewing or biting, have a sensitivity to extreme temperatures like the heat or the cold, and notice swelling and tenderness in your gums, then you may be in need of root canal therapy. This is required when your root canal is either inflamed or infected as a result of damage to your teeth, decay from cavities, or gum disease. We are pleased to provide root canal therapy and services to help alleviate the aches and pain that you are experiencing. The primary benefits that root canal therapy has to offer include, strengthening or enhancing your ability to chew and bite, enabling a more natural appearance for your tooth, and the ability to prevent further damage to the rest of your teeth. 

We can guide you through the root canal treatment process. It starts with a dental examination, where your dentist in PEI will use an x-ray to determine and diagnose the severity of your condition. Once this process has been completed, we will then use a local anesthetic to numb the affected tooth and the surrounding area, enabling a comfortable procedure. Your dentist will then drill a hole through the cusp of your tooth into the root canal, and excavate or remove decayed parts of your tooth. When your tooth has been thoroughly cleaned and disinfected, your dentist will then fill the root canal with a material that is similar to rubber in texture, called gutta-percha. A crown will then be recommended to seal the root canal and complete the treatment.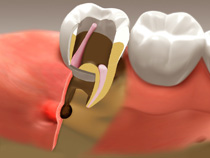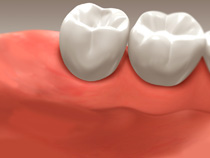 Last Updated On
2020-07-07